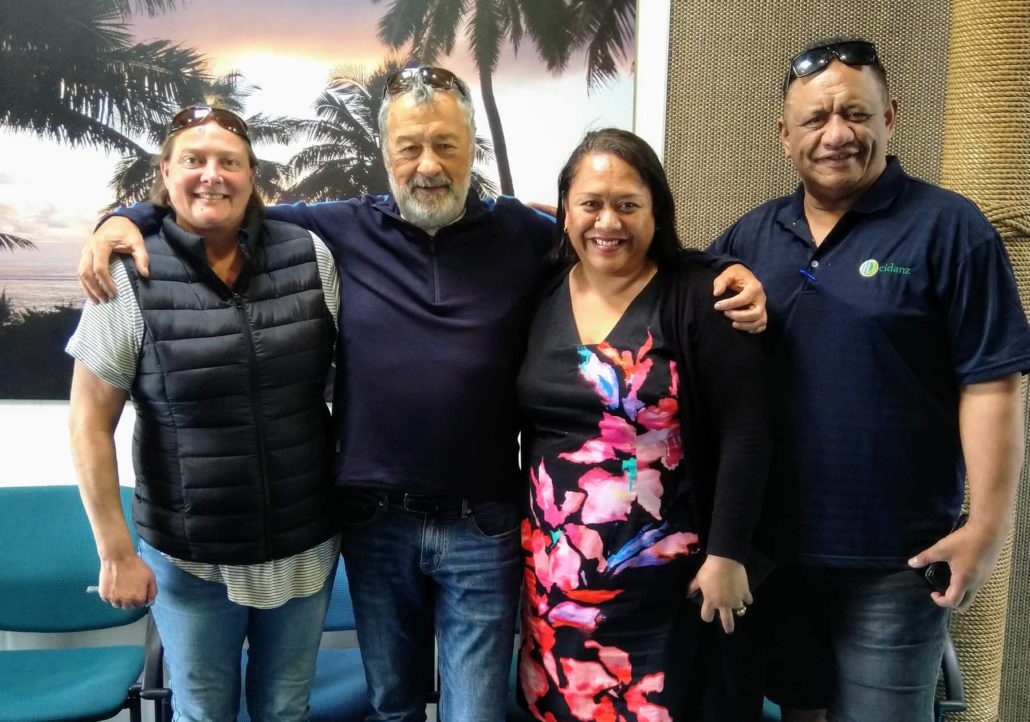 I teia epetoma I topa ake nei kua aere atu te pupu o te CIDANZ arataki ia e te vaine maata Rouruina Brown I te atoro atu I te iti tangata e noo nei ki te vaka Invecargill, Otepoti e te Waipounamu.
Kare oki I rauka ana Ia Rouruina I te aru atu I te pupu no te aravei atu anga I te iti tangata I te Waipounamu ināra I roto te araveianga atu I te iti tangata I invecargill kua akaari  mai ratou e ko tetai apinga puapinga roa atu koia ko te akaoukouanga mai I te iti tangata ki te ngai okotai. I Otepoti oki, kua akaari mai ratou e ko tetai apinga maata roa atu ta ratou e inangaro nei koia ko tetai ngutuare no ratou ei akakoukou atu I te iti tangata I reira. I teia tuatau oki te ta angaanga nei te iti tangata I tetai ngutuare no te trust tei akakoro ia oki e no te iti tangata Patipika katoatoa. Kua akakite oki ratou e, me rauka tetai ngutuare no ratou, ka mama mai te rave atu I tetai au angaanga ke atu mei te apii I te reo, te apii aitamu e pera tetai ngai no te ariki anga atu I te au tere e aere atura ki roto I to ratou Vaka. Kare oki e mei te mea ka oake atu te CIDANZ I tetai moni no te akatu I te are, mari ra rauka I te CIDANZ I te angaanga kapiti atu ki teia Vaka I te kimikimi atu anga I tetai au ravenga no tetai tauturu no te akatu atu anga I tetai ngutuare.
I te Waipounamu oki kare I oti meitaki te uriurianga noatu e kua matara mai tetai au manako, te akara nei oki ratou no te uriuri atu I rotopu rai ia ratou no te akapapu atu I to ratou au anoano puapinga.
Ko teia au angaanga oki e atoro nei te CIDANZ I te au vaka I Aotearoa nei koia oki no te akara atu I te turanga o te iti tangata I roto I teia au vaka kia rauka I te akara atu e, ka akapeea I te angaanga kapiti atu anga kia ratou no te akamatūtū mai I to ratou turanga kia matutu mai ratou I te tauturu anga ia ratou uao rai e pera te tauturu atu anga tetai I tetai. Penei e ka rauka I tetai vaka I te tauturu atu I tetai na roto I te au akara'anga o te au angaanga ta ratou e rave ra, kua riro mai I reira te CIDANZ e akamata atu I te angaanga kapiti I rotpu I te vaka, mei tei reira ara te tu.
Te oronga atu nei te Vaine maata o te CIDANZ a Rouruina Brown I te akameitakianga maata kia kotou e te au vaka tei aravei iatu, no ta kotou turuturu anga mai I teia akakoro'anga.
https://www.cidanz.co.nz/wp-content/uploads/2019/05/Rebrand_CIDANZ-logo_Final.png
0
0
Janet Akai
https://www.cidanz.co.nz/wp-content/uploads/2019/05/Rebrand_CIDANZ-logo_Final.png
Janet Akai
2019-11-18 14:44:47
2020-01-21 10:40:45
Invercargill Cook Islands Community - CIDSAP NZ Review