Article Written by Florence Syme-Buchanan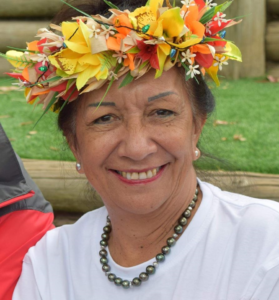 Member of Parliament for Rakahanga and Leader of the Opposition Hon. Tina Browne
The salary of Democratic Party Opposition leader Tina Browne will undergo a 15% pay-cut over the next six months.
Browne is the first Cook Islands parliamentarian to volunteer to forfeit part of her salary to show solidarity with her country that's in a serious economic downturn due to the global impact of Covid-19.
"Our country and people are taking a big financial hit at this time, it is only right that we parliamentarians also make a sacrifice given that the entire country has undergone belt tightening, hundreds have lost their jobs and have uncertain futures."
"I believe that we are all in this together and I urge all members of Parliament to be actively doing our part to show unity with our people."
"These are very difficult times and as members of Parliament we have to lead the way and show support and compassion."
Browne says that she has left the matter of volunteering pay cuts to members of her caucus to decide for themselves – "I've asked them to make a conscientious decision, this is a personal matter they need to decide for themselves."
"I do know that some of my MP's are strongly in favour of directing a percentage of their pay into their constituency fund."
Browne says she hopes that PM Henry Puna will do likewise and will effect a 15% pay cut to the salaries of cabinet, government MPs and all Heads of Ministries. Browne intended to meet with the PM before announcing her decision but a meeting was not possible at the time of the release of this article.
"New Zealand prime minister Jacinda Ardern is showing the world so much empathy and strong leadership during this world pandemic, she has actioned a salary cut for herself and her cabinet including heads of ministries – we too can show the same for our iti tangata," says Browne.
Browne says she will be advising MFEM to direct the 15 percent pay cut to the Rakahanga constituency fund to be used to support the island as needed. "Life on Rakahanga has always been challenging because of it's isolation and infrequency of freight, so the next six months will be even more difficult for my constituency."
Rakahanga is 1,248 kms (775 miles) north of Rarotonga – the second northernmost island in the Cook group. It has a population of around 90 people. It's nearest neighbor is Manihiki 44 kms (27 miles) away.
Browne says with government stating it has the ability to sustain operations for the next six months and beyond that would most likely require the country obtaining a loan to keep functioning, "it is even more important that those earning the highest salaries in government make sacrifices now like so many of our people are already doing."
Read More at Cook Islands News