After talking to David Maruariki and featuring his journey over the last couple of weeks, I couldn't help but think of my younger brother Tereapii or Apii as he is known to many. Apii and David use to hang around in Avatiu sharing their arts amongst other passions.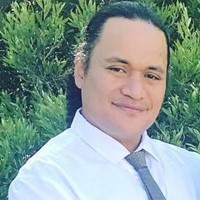 Apii is youngest of our clan and named after our eldest brother Teariki or Ki as he's better known to those who know him. Tereapii o Teariki ki Nu Tireni.
I guess Apii's interest and development started off from Tereora College at the early stages of the arts classes at College. This was the time of Ian George, Tuaine Teiti and Ms Ngauru. Tuaine Teiti was the biggest influence that shaped his passion for art to this day. According to Tuaine "When you're able to transfer what's in your mind onto paper, for people to see, that's art. It's not about making people like it. It doesn't matter if people don't like it, as long as youre happy that you have transferred what you have in your mind on paper or into the median you're using, that's arts. If people like it that is a bonus. If people do not like it, it doesn't mean you're not an artist".

This, according to Apii was what created the uniqueness of his work.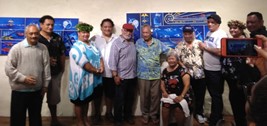 Apii joined by the family at the opening of his arts exhibition in July 2018 – Beachcomber Rarotonga
Every painting he completed I have always been able to work out the story even without talking to him about it. This is because he was telling our story as a family. Our upbringing, working in the taro patch and fishing in the lagoons of Nikao.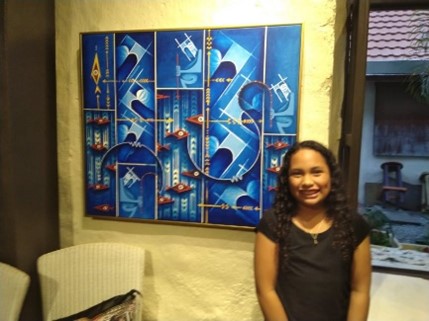 Apii's daughter Te Vaerua proudly poses besides one of her dads painting

During the late 1990s and 2000, there was a lot of work to enforce the raui otherwise known as marine conservation areas n Rarotonga. I was heavily involved with promoting the concept as the education awareness Officer for the Cook Islands National Environment Service. One Saturday afternoon as we walked through the raui in front of the Parliament in Nikao, we were passing thorough schools of fish. The brother with the net yelled out, "ok you guys slow down, so we did. I was waiting to see what he was up to, then he went outside the boundary of the raui and proceeded to laying the net. He then yelled out, "you guys start making out you're swimming out of the raui and come towards the net". Well it didn't happen as I told him off for even thinking about it knowing ive been involved with the raui campaign.
Ten years later I saw one of his painting with the raui sign in. After making out the characters in the painting, I realised Apii just told that story.
The other unique aspect of Apiis works is Tangata. Now who is Tangata? I actually thought that Apii made his own version of Tangaroa. This is what he said to me. "You guys better get it right. I never attempted to redesigned Tangaroa nor did I create my own version of Tangaroa. What I did is that I created my own character to tell my stories and I called him Tangata". So there it is.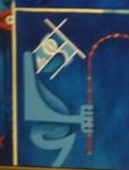 Tangata – used as a character to tell the stories
Finally, I asked him about the colour and why blue and yellow is so monotonous in all his paintings. "This is my clubs colour. Avatiu club blue and gold.
Apii is currently living in Perth with wife Denise and their children.
As for the paintings, they are all someone else's now.
Next week we will check out the work of some amazing people in Dunedin.