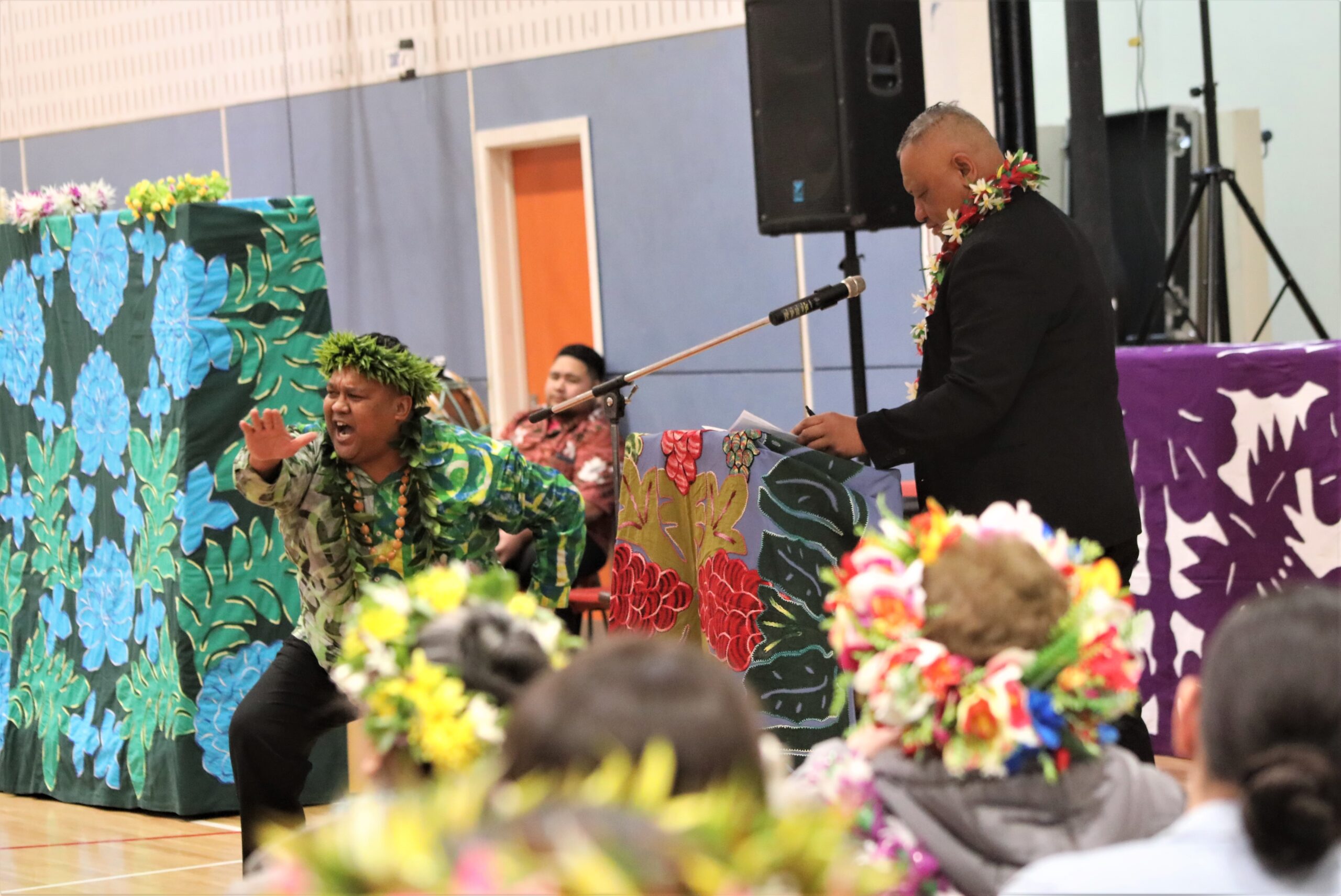 Saturday 2nd August 2020, saw the launching of the Are Taunga as part of the Opening to the Cook Islands Language Week. The Are Taunga forms the head of a proposed structure to oversee the development of a holistic approach to reviving Cook Islands language in New Zealand.
CIDANZ Language & Cultural Lead Tauraki Rongo said that the approach has to take into consideration the main pillars that builds the passion for language. This includes the development of new words to keep up with technology and science, and the establishment of a working relationship with the language Commission in Rarotonga.  The other part of this structure looks at resource and curriculum development and the teaching of teachers who are fluent with the Reo to teach the language.  The third pillar is to do with Culture and Heritage. This does not only focus on performing arts, but will also look at putting together a database of family trees, traditional customs and practices and so forth. Rongo said that literature reviews will have to be undertaken immediately to identify what's available and what needs to be collected. The launching of the Are Taunga signals the beginning of the work in bringing this structure to life. He said it's a lot of work, but if the focus stays on our connection to the land of our ancestors, language will easily flow on to the next generation.
The Are Taunga brings together a lot of skills but at this stage its heavy with research capacity.
Tha language Commision are as follows:
MamaTupou Manapori
An advocate of Cook Islands language and Cook islands culture in New Zealand. Born in Manihiki she grew up in Rarotonga and attended teachers training College there before moving to New Zealand. Before moving to Aotearoa, Mama Tupou is one of those lucky enough to be mentored by great teachers such as Taira Rere, and Mana Strickland.
She taught in New Zealand for over 37 years with most of those years at Sir Edmund Hillary Collegiate. Tupou served eleven years (1983-1992) on the Mankau Council. Her passion to see Cook islands language blossom in New Zealand have kept her in the classroom till now where she teaches Cook Islands language at MIT Pasifika Languages.
Her work with the community at large have earned her New Zealand Queens Award NZMN and QSM.
………………………………………………………….
Teremoana Hodges
Teremoana Hodges moved to New Zealand  at the tender age of 7. Most if not all of her working life in New Zealand was spent in the classroom teaching at Primary and intermediate schools before going back into studies. She spent a couple of years as principal of the Cook islands Teachers Training College in Rarotonga around twenty years ago.
She holds a Masters degree in Professional Education with her Masters based on "How to teach Cook islands Maori language to adults in New Zealand".  A highlight in her study was the use of the Tivaevae methodology as a model of building and developing strategies.
………………………………………………
Charlie Teariki Turia
Born and raised in Tokoroa, New Zealand and of Aitutaki and Rarotonga descent. The 7th Child of 11 children to the late Turia Turia (QSM) and late Nooroa Turia the first Cook Island family to settle in Tokoroa.  Cook Islands Community (NZ) Representative on the parliamentary select committee for the Children & Youth Persons Act 1989. Currently Employed as Area Manager for Go Bus Transport managing Bus Depots in Putaruru, Tokoroa, Reporoa, Rotorua, Taupo and Turangi.  He is the Chairman of the Cook Islands Community Society Tokoroa (Inc) since 2004.  He is the Parish Clerk for St Luke's Pacific Islands Presbyterian Church Tokoroa since 2008.  He Facilitates the Men's Focus Group dealing with Men's Health under the umbrella of the South Waikato Pacific Islands Community Services (Inc), Tokoroa.  He also the producer of the Cook Islands Radio Te Taura Vananga – Raukawa FM Show held every Sunday 6:00-12:00 midnight. He is also a registered New Zealand Marriage Celebrant (55374).
………………………………………………
Lester Dean
Lester Dean spent 34 years of his life teaching at primary schools in Invercargill. He was School Pricipal for some time before the establishment of the New River Primary School where he continued to be Principle until 2006.
In 2010 he worked in Dunedin to set up the PIACT there.
Lesters interest in Cook islands language was triggered again when his son started making progress on an app to teach the reo maori. At this stage and time he is looking for a name for this app..It will most like be called Reo Kapua – and will involve Fluent Cook Islands Maori language speakers of all ages in 7 mins segments teaching conversational Cook islands  maori
………………………………………………
Karika Turua
Kariaka ia one of the Cultural Leader amongst the Puakpukan Community in New Zealand. He is based in Auckland  and brings to the Are Taunga Cook Islands view and perspectives from a Pukapukan viewpoint.
……………………………………………………..
Tokerau Joseph
Reverend Tokerau Joseph brings to the Area Taunga Phd in Theology with First Class Honours. Born in Rarotonga, but grew up in Auckland. Reverend Tokerau is well engraved into the Manihiki and Cook islands Culture being involved in community, Church and School events throughout his life.
………………………………………………
Frances Topa Fariu
Kua tupu mai a Frances mei te Enua Nukuroa.  Kua tangoia tona tupuanga ki roto i tona reo e tana peu maori.  E ngakauparau ana aia i tetai ua atu tika'anga kia akaari ma te akaepaepa aia i tona reo e tana peu maori.  No tona inangaro e te umuumu kia ruperupe e kia vai ua atu rai to tatou reo e ta tatou peu maori, kua  piri atu ana aia ki roto i te au angaanga o te Temaevanui i te Kuki Airani e pera to Nutireni nei, tetai au putuputu'anga e te au uipaanga e manganui no runga i te akamatutu i te reo maori, te uri i tetai au pepa puapinga ki roto i te reo maori Kuki Airani e te vai atura.
E ta-angaanga katoa ana aia i tona parau i tona reo maori na roto i tetai au tikaanga kia  akamarama meitaki aia i tetai au angaanga e rave ia nei ki roto i to tatou iti tangata Kuki Airani i tera ngai e tera ngai me anoanoia mai aia.
Toku reo e taku peu maori kia ora ua atu rai, Taku Ipukarea kia rangatira.
…………………………………………………………
Maara Maeva
Ma`ara Maeva is a Learning Specialist at Auckland War Memorial Museum Auckland New Zealand where he develops and delivers schools and community programs based on museum collections. He is trained in the field of archaeology and he holds a Master`s degree in archaeology from the University of Auckland. He comes from the island of Ma`uke and is steeped in the cultural traditions and knowledge of his heritage
……………………………………………………………………
Eliza Puna
Eliza Tohoa Puna is a daughter of the Cook Islands born and raised on the island of Rarotonga with papa'anga to the islands of Aitutaki and Manihiki. Currently, a Teaching Fellow and PhD Candidate at Te Wānanga o Waipapa, School of Māori Studies and Pacific Studies, University of Auckland. She has a Pacific Studies, Public and Community Health background. Her research interests are centred around Cook Islands, Pacific and youth positive mental wellbeing, mental health, suicide prevention, youth development and our reo Māori Kūki 'Āirani.