Written by Tauraki Rongo
Over the period of the alert levels moving between lockdowns, the lives of a lot of New Zealanders were affected one way or another.
The Corstophine community Hub was one of the many places across the country that was buzzing to provide support to those in need. When I turned up to hub, the team was packaging food parcels ready for delivery.
Corstophine Community helping out with the gardens
I met up with one of the Coordinators Mere Taana Jouanides, who works fulltime with Oranga Tamariki now, but her journey in connecting to our Pacifica communities began from this hub as a volunteer in 2014.  It's a family affair at the hub where some of Meres siblings also help out. Mama who joined the team in 2015, Chairs the Community Hub committee while the other Sister Moana whos been at the hub the longest manages the gardens.  Mere says that their life experiences resonate with those struggling and in need of help.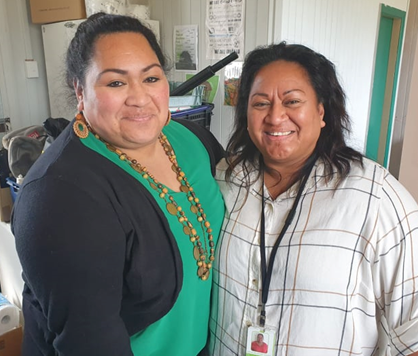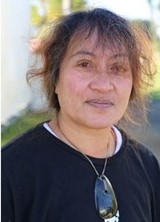 Taana Sisters Mere, Mama and Moana
During my visit to the centre the team was preparing food packages for delivery to around forty households. "Its forty households, but you know our people, often there are more than one family in one house" says Mere.
One lesson we've learnt through the alert levels is that there are people who tries to use and abuse the system intended to help those affected in any way by Covid-19. On the other hand however a lot have been very shy to come forward for help.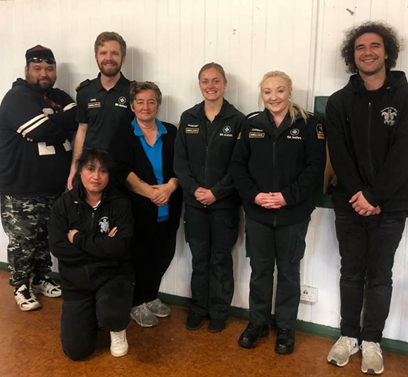 The Corstophine Hub Team
According to Mere, one way of getting these people to come forward is by understanding their mind-set and putting youself into their shoes. "We've come through this kind of life so connecting and knowing the reality of what these families are going through, is us". I suppose this is why it's a family affair at the hub.
I found the vibe amongst the team as they prepare the packages for delivery and as they go about their work quiet encouraging, given the mixed races there are. As a voluntary activity, it was quiet evident that the team has the heart in doing what they are doing. Often I've seen paid people do community work just because it is their job, the love and desire to do things from the heart to help improve another person's life, often was not there.
When Mere started working with Oranga Tamariki, she kept on working at the hub. "To be able to effectively deliver my work at Oranga Tamariki, I needed this connection with the community. I needed to know whos out there so when issues pop up, I have an understanding of the family because basically the cases that come through Oranga Tamariki are people who are struggling, people using our services".
Talking about Oranga Tamariki, I just couldn't go on without asking her about the bad image that's been painted all over the media about children been taken away from families by Oranga Tamariki.
Simply she said, "a lot of complaints are filed or reported by witnesses which is taken through a process before we proceed on to the actions we take. Of uttermost importance is the child's health and safety". Basically from where I am, if this is the case, if there's doubt on the health and safety of the child then they shouldn't be there. Next week we will talk to someone who works in the old peoples home.