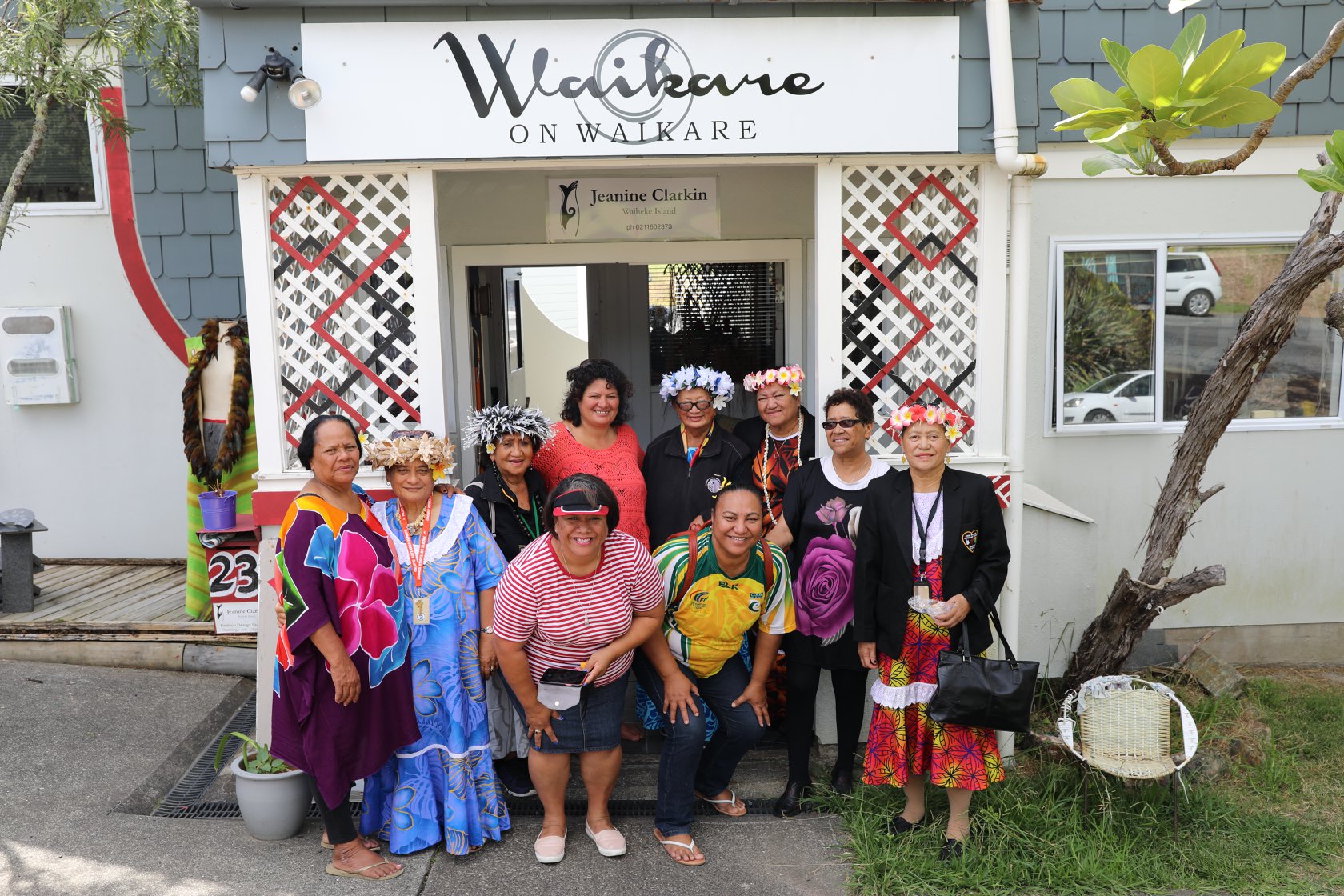 Led by our Ambassador Nana Kamo-Mataroa, our Pa Metua Club went to Waiheke Island on March 12th, 2019.
The Club was officially launched on October 2, 2018 with twelve new members pledging three things: to share and preserve their cultural knowledge for future generations, to document in a journal their insights and experiences; and to guide and nurture new and existing leadership in the community. "This club is for our 65+ year olds because like Auntie Nana, we value our elders and their place in our communities. We wanted to create a space where they were able to come and be among others, to share their cultural knowledge, experiences, insights, and mostly just to connect with those who understood them. During the time since the group's formation, we've learned that most of them are at home alone. Their children have either moved on to raise their own families, or their partner has passed away. For some it's a very lonely time in their lives" says Rouruina Emil'e-Brown, CE of CIDANZ. "There are treasures within their lives that we want to learn from and to preserve, like our language and the different dialects we have in our small nation alone. Most of these dialects have been taught through songs, dances and legends. Through the simple act of transcribing their thoughts in their dialect in a journal, they're taking a step towards preserving those dialects."
When they're not sharing from their journals or singing traditional hymns, they're taking part in workshops with positive social enterprise outcomes. One of those workshops was upcycling pillowcases donated by the University of Auckland's Student Accommodation team. The members were able to screen print traditional Cook Islands motifs onto pillow cases that were then packaged and sold in the Kia Orana cooperative community store. The store is stocked by locals and because of this, the stores policy is to ensure that profits go back into the community, in this case, profits went back to the club where it was used to support the groups next outing – "a trip to the pictures."
In all the years that club members had lived in New Zealand, 70% of them had never been to the cinema's before. "I remember taking my children to the Civic in the city to watch the 'Sound of Music' when it first screened. That was a long time ago! They didn't have the fancy seats like they do now, and ice cream inside the movies wasn't done. The other Mama's had never been to the pictures and at first, they were worried about it, but were then amazed at how easy it was to get from the carpark, up the stairs to the picture room where they were served their little popcorn, ice cream, and drink. Then after the movie we were picked up, taken back to CIDANZ where we had fish and chips for lunch", says Nana. Mama Kura Rasmussen also recalls having a wonderful time, "it was my first time going to the movies! It made me feel young again, like I was going on a school trip with my friends." Mama Rasmussen also comments "I look forward to my Tuesday's. I like coming to the shed, to sing and be around others."
The visit to Waiheke Island was one they would never forget. The club sang from Auckland CBD all the way to Waiheke and back. Entertaining and charming travelers near and far. Once on the Island they stopped over to visit a local gallery owned and operated by a beautiful Maori Artist Jeanine Clarkin. They then had what is considered the "best fish and chips on Waiheke", and concluded their outing with dessert at the Tantalus Vineyard where they were hosted by Alibi Head Chef Marco Edwardes. Marco had fallen in love with our Cook Islands people while he had been working in Rarotonga last year.