Written by Florence Tia Syme-Buchanan
Calls for a full and independent commission of inquiry into the highly controversial  Te Mato Vai project have been renewed by Shadow Infrastructure minister William Heather.
Heather says there should be a thorough investigation into the project from inception, paid for visits to China by government personnel, the failed work pipe laying by contracted Chinese company CCECC and unsuitable materials it provided, relaying of pipes, budget over-runs from budget top ups and cost over-runs exceeding $100 million.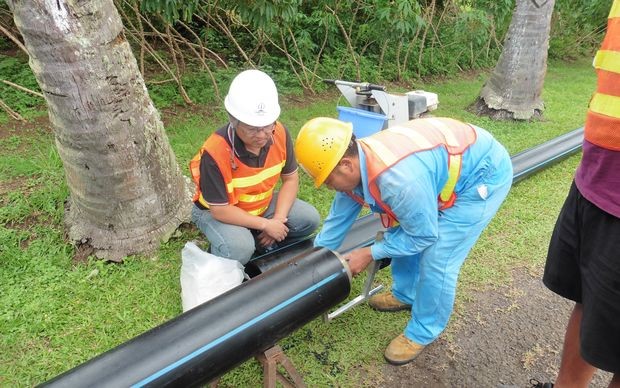 Pictured: Mato Vai Contractors in Rarotonga (Photo Cook Islands News)
"There was also the failure to accept expert advice from a resident NZ qualified engineer contracted by TMV," says Heather.  "This is one of the largest and most expensive projects ever undertaken in the  Cook Islands. Kilometres of newly laid pipes have had to be dug up again and replaced,further damaging the newly sealed roads, power and phone utilities in its wake. It's a mess that our axpayers have to pay for."
Heather says the government's intention to install water meters for the purpose of charging water is contrary to promises made at the outset that residential properties wouldn't be charged for water.  "This is another form of tax on the people and will surely bring economic hardship to our people many of whom who are already struggling."
The government's plan to use chemicals to chlorinate the public water supply was never made public at the outset, says Heather. He added with little or no public consultation shaping public policy for the proposed  water charges and water chemical chlorination,there is growing public outrage and opposition to the disastrous outcomes from the Te Mato Vai project.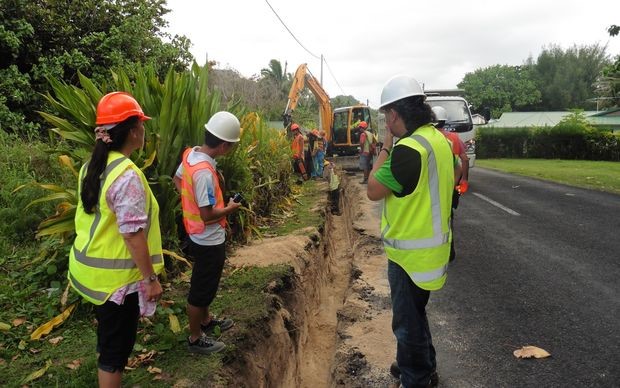 Pictured: Te Mato Vai Contractors laying down the new water piping system for Rarotonga 2018 (photo Cook Islands News)
Both deputy leader of the Democratic Party Terepai Maoate and leader Tina Browne also made strong calls for a commission of inquiry in 2018 and 2019 respectively. The government has remained silent on that demand by the two Democratic Opposition leaders.