Story Written by May Seager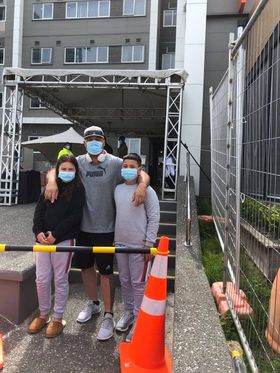 Caption: Daniel Lewis with Charlize (aged 10, left) and Jairome (aged 11, right) during Managed Isolation at their hotel in South Auckland
Having space to play footy with his son and for his daughter to run around. Those are the things that Daniel Lewis is most looking forward to, after two weeks in Managed Isolation in South Auckland.
Daniel, whose family come from Aitutaki and Rarotonga, has called Sydney, Australia home for the past 16 years. In the beginning, that was fine. He had a partner, a blended family of four children with his partner, constant work and a comfortable lifestyle. But over the years, he realised he was missing New Zealand, the place he was born.
Daniel was born and raised "West-side" Auckland, attending Kelston Boys High School and studying at Unitec. He had worked in various factories and plants, finishing up in Kawerau before heading up for his big "OE".
He comes from a large family, the Daniels family that originated in Aitutaki. It was great keeping in touch with the rest of his family, who were mainly in New Zealand, via Facebook but over the years, he could see that his children were wanting a closer family connection with cousins and all the others.
His children, Jerome 11 and Charlize 10, know who their "cuzzies" are from trips back to New Zealand and family visiting them in Sydney. Daniel was feeling it too, with five siblings and ageing parents, he wanted to come back, and had started making plans to move back.
However, the move didn't happen soon enough and with the global pandemic, COVID-19, descended on the whole world, it delayed his plans.
While Daniel worked on completing the paperwork they needed, having had two children born in Australia, getting passports and other issues, he was continuing to work in the construction industry.
Just as in New Zealand, Australians were learning to live with a "new norm".
At first, he said people just wanted to get on with their lives, while living within the restrictions.
"We had social distancing, people were wearing masks. I was an essential worker so I was able to continue working. People generally were not fearful."
He noticed people becoming more aware of their actions. His work-place was more stringent when it came to people being sick. "Even if you just had a sniffle, they asked us to stay home, as a precaution."
While travelling, on public transport, he noticed people not leaning on rails or windows as often. And there were a lot less people sniffing or coughing.
As things became more relaxed and the date for their expected move drew closer, he made a conscious decision to change some of their habits. Instead of eating out and socialising, they stayed at home and cut down on outings, to reduce the risks of getting infected with the virus.
Daniel says that it seemed daunting to move his family back to New Zealand after so many years away, but he was very thankful that he learned about a networking Facebook page called "Hoki Mai",
It had been set up specifically to help Kiwis to return home from Australia. The "Hoki Mai" page drew on people's experiences and gave practical hints, encouragement and support.
Things like working out which removal companies were successfully moving people back; simple things like suggesting people had New Zealand cash on hand for when they arrived home and to take snacks for the trip.
The page was a huge help to him because it gave him a "heads-up" about lots of things he hadn't even thought about.
"We were told that the duty-free wouldn't be open and that we might be in for a long journey because we wouldn't know until we arrived in New Zealand, whether we would be in managed isolation in Auckland, or Rotorua or Christchurch. We just had to be prepared for the worst."
In the early days, when large numbers of New Zealanders were first returning home, there were some unfortunate incidents and horror stories from returnees. As it turns out, he believes that having the expectation for things to be bad actually helped them.
"When we arrived back in New Zealand, it was only our plane at the airport. The place was deserted. Nothing was open which meant we got through customs really quick. And then we only had a short drive to our hotel. It was so easy," said Daniel.
He has also been grateful for the care of all the personnel involved during their transition — the airport staff, customs, defence personnel, hotel staff and health workers.
"They have all been so kind and considerate. We were given packs for our kids with games, colouring books and even jumbo chalk for the kids to draw all over the carpark. The kids have done some awesome drawings, hopscotch — it's been really cool".
Being in Managed Isolation has been a challenge but not really as bad as they thought it would be. As a family with two adults and two children in two rooms, some days it has been difficult to keep the young ones occupied. Ever the optimist though, Daniel says it would have been much harder for people with babies or toddlers.
He also felt they had a "good deal". When he first arrived at the hotel and shared videos with the family, he grinned and said "yeah, we really lucked out, this place is flash".
Daniel feels that on the whole, they have been blessed. They have been able to use two large carparks areas to exercise or just relax in.
He has also had help from family members, who face-timed with them, doing exercises, helping to keep their bodies active and also calling them, checking on their well-being.
There have also been daily health-checks by health workers. They have had their temperatures taken, asked about symptoms and general well-being.
They are always asked, how they are doing, do they need anything?
"It's managed isolation so we can go downstairs to the lobby too, there's a vending machine or we can get Uber-eats or a Countdown delivery. But we have only done that once or twice. Mainly to eat New Zealand food like L and P and pineapple lumps," said Daniel.
He also said that the food had been great. "We have been spoiled". One day he ate baked fish for lunch and sirloin steak, vegetables and pasta for dinner. And they are also given snacks like nuts and fruit.
"That's why I have been walking twice a day. There's the chance I might put on too much weight," he says laughing.
Admittedly, the first week was ok, with the second week being a bit harder, combined with bad weather outside keeping them indoors most days. But it's the home straight and they know they have good things to look forward to — connecting with family, seeing people, hugging, playing footy, basketball and generally, being in the open spaces of home, New Zealand.
(Since this interview, the family have survived lockdown and are now with family again. And just like Cook Islands styles, they have had a big kaikai with the famz).