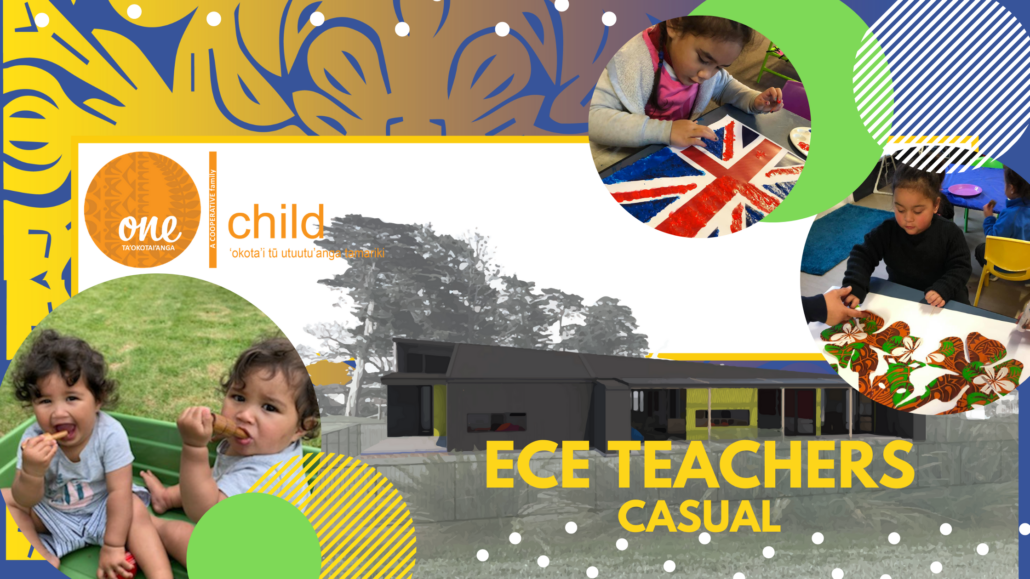 oneCHILD - Tai Tamaiti Tūranga Rangatira
Cook Islands Early Childhood Education Centre, Mangere, South Auckland
Who are we?
Kia Orana, turou, aere mai ki te apii potiki, Tai Tamaiti Turanga Rangatira.
We are an Early Learning Centre dedicated to the promotion and revitalisation of Cook Islands language and culture. We uphold Christian values of love, respect, and care. We have an effective Philosophy, Mission Statement and Vision that we implement in our daily practice. With a curriculum shaped by an informed Cook Islands pedagogy, our experienced and registered staff are confident in their implementation of our Cook Islands language and culture. The future vision of the centre – is to be an innovative centre of excellence for the revitalisation, acquisition, promotion, enhancing of Cook Islands language, culture, traditions, and indigenous knowledge.
We are seeking ECE Teachers who:
We are seeking ECE Teachers who:

Qualified and willing to work with our Cook Islands tamariki (children)
Will adhere to our Philosophy, Mission Statement, and Vision
Warm with a good attitude towards children and their learning
Are able to pass police vetting
Hold a current first aid certificate (desirable)
Are willing to work in a team environment
Value children's culture, language and identity.
Responsibilities:
Ensuring the smooth daily delivery of the curriculum in Cook Islands Maori when full-time staff are not present
Setting up of inside or outside areas with resources for children's learning by following rostered duties (weekly).
Report to supervisors should any issues arise, from the supervisor to the head teacher then to centre manager.
Documentation of activities provided for tamariki at the end of the day.
Hours:
Centre opens for staff – 7:45 am.

Closes – 5:00 pm.

Flexible rostered hours.
For more Information Contact:
If interested, please send through a CV and Cover Letter to:
Letina Andrew, CIDANZ Operations Administrator
Email: letina@cidanz.co.nz ; Mobile: 027 216 2500